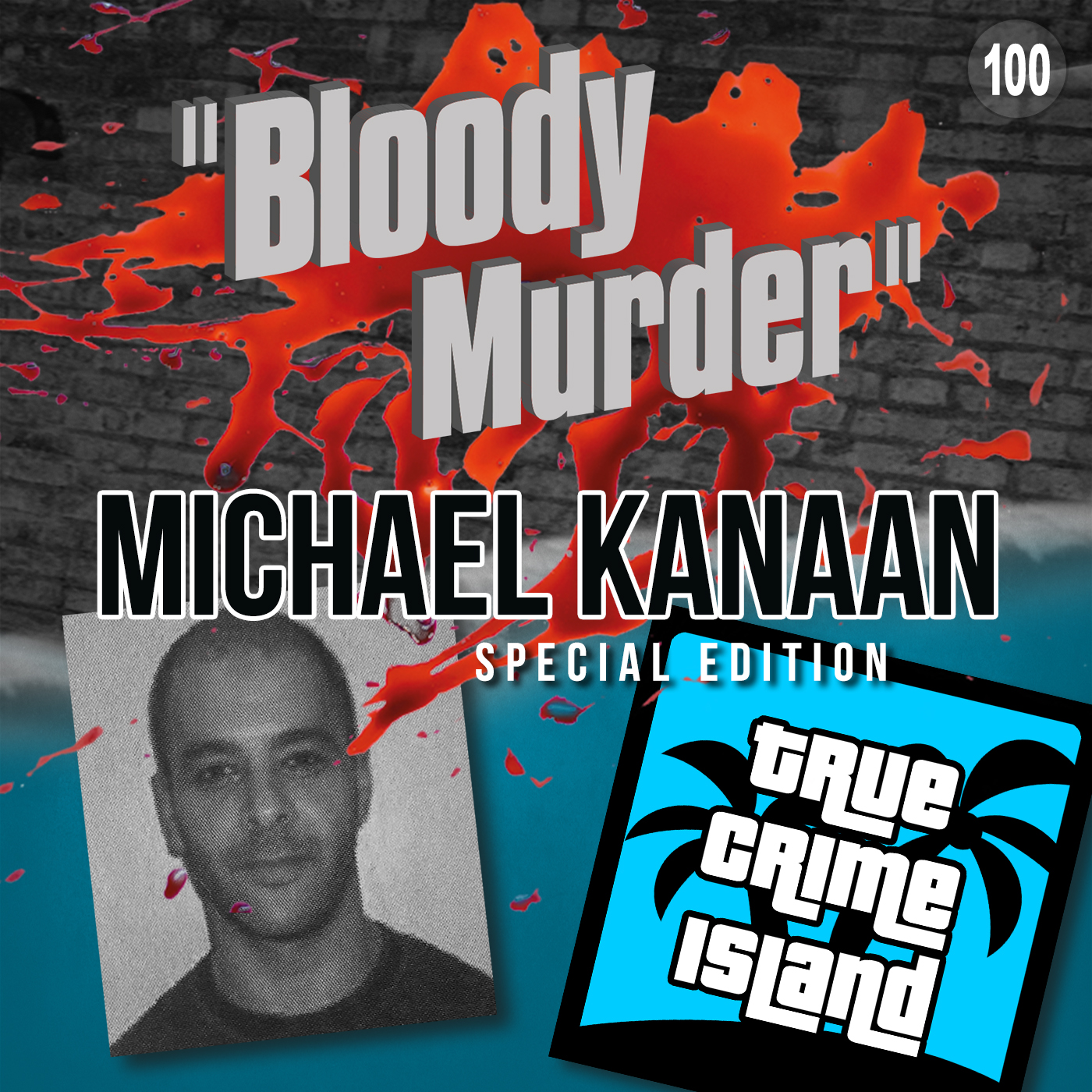 The Michael Kanaan Story - Special Edition...
To celebrate our 100th Episode we've joined forces with Cambo Ford to bring you Bloody Murder on True Crime Island: The Michael Kanaan Story!
Michael Kanaan is an Australian triple murderer from Sydney. He was second in charge of the notorious gang DK's Boys who controlled the cocaine trade in Kings Cross in the late 90's and were involved in all manner of tomfoolery, their violent crimes included kneecapping, extortion and shooting cops.
Most of Sydney's traditional criminal underworld worked under the radar. They avoided clashes with cops like the plague. DK's boys were a new breed, all anger and firepower. They had balls made of bullets and they weren't afraid to use them.
This is a classic tale of a modern Aussie crim who grew up aspiring to live like the gangsters in the American movies he watched repeatedly. As is usually the case, things did not turn out well for anyone involved!
See our website! bloodymurderpodcast.com for all our socal media links, contact details, a gallery, fabulous merchandise (check out our new Bloody Murder SHOES & STICKERS!) and much much more.
Become a Bloody Murder Patron for over twenty extra episodes, early release of some episodes, free merchandise and other sweet sweet benefits.
Wanna buy us a drink? Here's a donate link.
Thanks Julie Caple for supplying this weeks True Crime Nerd Time. It's a review of the book "The Sharon Kinne Story" by James C. Hays
True Crime Nerd Time, a segment on Bloody Murder, needs your help because it stars you! We want you, our listeners, to submit your recommendations for anything true cime related! It could be books, TV shows, movies, documentaries, exhibitions, graphic novels, art, music etc. So send us your brief story (we'll read it out) or record your story (it can just be a recording on your phone, and we'll play it!). We will also publish it on our website. Keep it to about 2 mins please or 200 words. Email here! bloodymurderpodcast@gmail.com. Oh and if you give us your postal address we'll send you some stickers as a reward!
Poshmark is the #1 place to buy and sell fashion. Shop millions of closets across America—and sell yours too! Poshmark connects you to people whose style you adore, so instead of buying things new, you can shop from "millions of closets across America." They have over 25 million items and 5,000 brands, so variety is not a problem.
Poshmark carries clothes and accessories for Women, Kids, & Men. Poshmark has tons of brands to shop from including Victoria's Secret, Gucci and Kate Spade. Poshmark is the easiest way to buy & sell fashion items and for extra convenience you can Download the Free Poshmark App. Shipping is Super-fast and easy for both the seller and the buyer. It's like Black Friday every day on Poshmark, they offer designer brands like Louis Vuitton, Michael Kors and Tory Burch
Listeners of Bloody Murder get $5 off your first purchase! Just enter the invite code: BLOODYMURDER when you sign up.
That's invite code: BLOODYMURDER
Support for Bloody Murder – A True Crime Podcast comes from Audible, who proudly present Evil Has A Name: The Untold Story of the Golden State Killer Investigation.
Delivering all-new details about the investigation and a stunning final act to the events of Michelle McNamara's haunting bestseller, I'll Be Gone in the Dark, forensic criminologist Paul Holes and retired FBI profiler Jim Clemente reveal the unbelievable true story behind the capture of the suspected Golden State Killer.
Evil Has A Name: Only on Audible.
Listen now at Audible.com/EVILBLOODYMURDER or text EVILBLOODYMURDER to 500 500