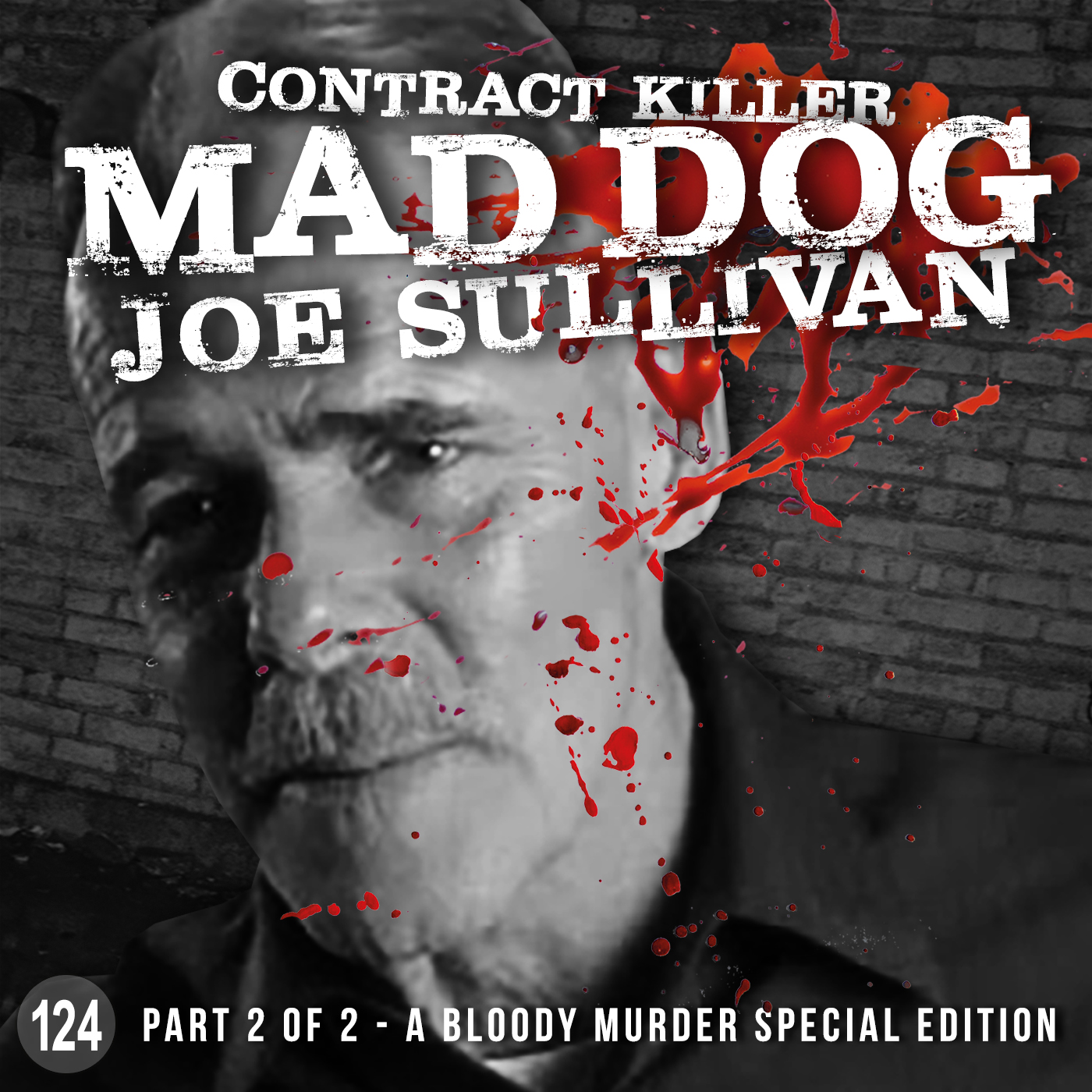 Contract Killer Mad Dog Joe Sullivan - Part 2...
In part two of this two-part special, new father, 38-year-old Mad Dog Joe Sullivan soaks up some culture while honeymooning with his wife Gail. He then gets right back into knocking mobsters for "Fat Tony" Salerno and the Genovese family, including Mickey Spillane's top enforcer Tommy "The Greek" Kapatos, and Antonio Caponegro aka "Tony Bananas". There was also a botched hit on Carmine "Lilo" Galante and a near miss on "Ol' Blue Eyes" himself, Frank Sinatra.
In the summer of 1978, Joe met with actor's Jon Voight and Robert Di Niro and directors Hal Ashby and John Hancock to discuss potential film projects.
After teaming up with some friends from the disco scene, Joe started sticking up payrolls and jewellery stores for a bit of a lark and some extra cash but ended up committing several murders of accomplices in bungled burglaries, before his last hit on "Johnny Flowers" Fiorino caused his dramatic capture.
Become a Bloody Murder Patron (for as little as $1 per month, which you cancel at anytime) and have access to dozens of Patron only episodes (including our whole first season!) with new patron only content added every month! Go to https://www.patreon.com/bloodymurder
Also Levels $5 and over go into our monthly merchandise draws and get FREE stickers and hand-made Barney Badges!
See our website! bloodymurderpodcast.com for all our socal media links, contact details, a gallery, fabulous merchandise (check out our new Bloody Murder SHOES! and now STICKERS and BACKPACKS and DUFFEL BAGS!!) and much much more.
Wanna buy us a drink? Here's a donate link.
True Crime Nerd Time, a segment on Bloody Murder, needs your help because it stars you! We want you, our listeners, to submit your recommendations for anything true cime related! It could be books, TV shows, movies, documentaries, exhibitions, graphic novels, art, music etc. So send us your brief story (we'll read it out) or record your story (it can just be a recording on your phone, and we'll play it!). We will also publish it on our website. Keep it to about 2 mins please or 200 words. Email here! bloodymurderpodcast@gmail.com. Oh and if you give us your postal address we'll send you some stickers as a reward!
Aussie As: A Cairns couple are shocked when two gigantic scrub pythons come crashing through their ceiling mid-coitus.
Sources: Mobsters; Mad Dog Sullivan. www.biography.com. Tears and Tiers The Life and Times of Joseph"Mad Dog" Sullivan the only man to escape Attica Prison, the true story of a legend by Gail Sullivan. Paddy Whacked: The Untold Story of the Irish American Gangster by T.J. English. streetlogicblog.com June 16, 2017, Death of a Mad Dog, by T.J. English.Village Voice, Secrets of the Mob by Tom Robbins, May 8, 2007. Notorious Rochester mob hit man 'Mad Dog' Sullivan dies in prison. Gary Craig and Sean Lahman, Democrat and Chronicle Published, June 15, 2017. Salt Lake Tribune, Ex-mob hit man 'Mad Dog' Sullivan dies in NY state prison, June 16, 2017. The Irish Mob, Joseph Sullivan The Only Man To Escape From Attica by Owen Forsyth, February 21, 2019. britannica.com; Attica Correctional Facility by Linda Dailey Paulson. Archive.org; Attica Uprising, Official Report. mafia.wikia.org; Tony Salerno; Edward Cummiskey;Antonio Caponigro; Mickey Featherstone; Jimmy Coonan. CBC, The Fifth Estate, February 11, 2011
Sources Aussie As: White Rock ceiling cracks under weight of mating scrub pythons, by Chris Calcino, Cairns Post, 28/07/19. Huge mating pythons crash through ceiling as shocked couple watch on, by Melissa Buttigieg, Yahoo News, 28/07/19. Two Massive Snakes Just Fell Through A Queensland Ceiling After Rooting Too Hard by Lavender Baj, Pedestrian TV, 29/07/2019
Bloody Murder thanks CDL.com for it's support. CDL.com makes it nice and simple to get a commercial driving license in the USA and find the job that's right for you, while listening to dozens of podcasts a day. You can find opportunities in your town or just up the road. Once you're a liscened truck driver you can create a driver profile and access high-paying long-term and short-term truck driving jobs. It only takes a few minutes to apply for jobs. Explore a truckload of jobs for the trucker in you. With plenty of new jobs and schools around the country, get your trucking career started at CDL.com. CDL.com can get you trucking right.
Bloody Murder also thanks Better Help for their support. Betterhelp offers licensed professional counselors who are specialized in issues, such as depression, stress, anxiety, relationships, sleeping, trauma, anger, family conflicts, grief, self esteem and more.  You can connect with a professional counselor in a safe and private online environment. Anything you share is confidential and it's so convenient.   You can now get help at your own time and at your own pace. You can schedule secure video or phone sessions plus chat and text with your therapist.   It's a service that is available worldwide and you could be communicating with a counselor in under 24 hours. Best of all, it's a truly affordable option and as a Bloody Murder listener you get 10% off your first month with the Discount code: BLOODYMURDER. So why not get started today? Go to betterhelp.com/bloodymurder