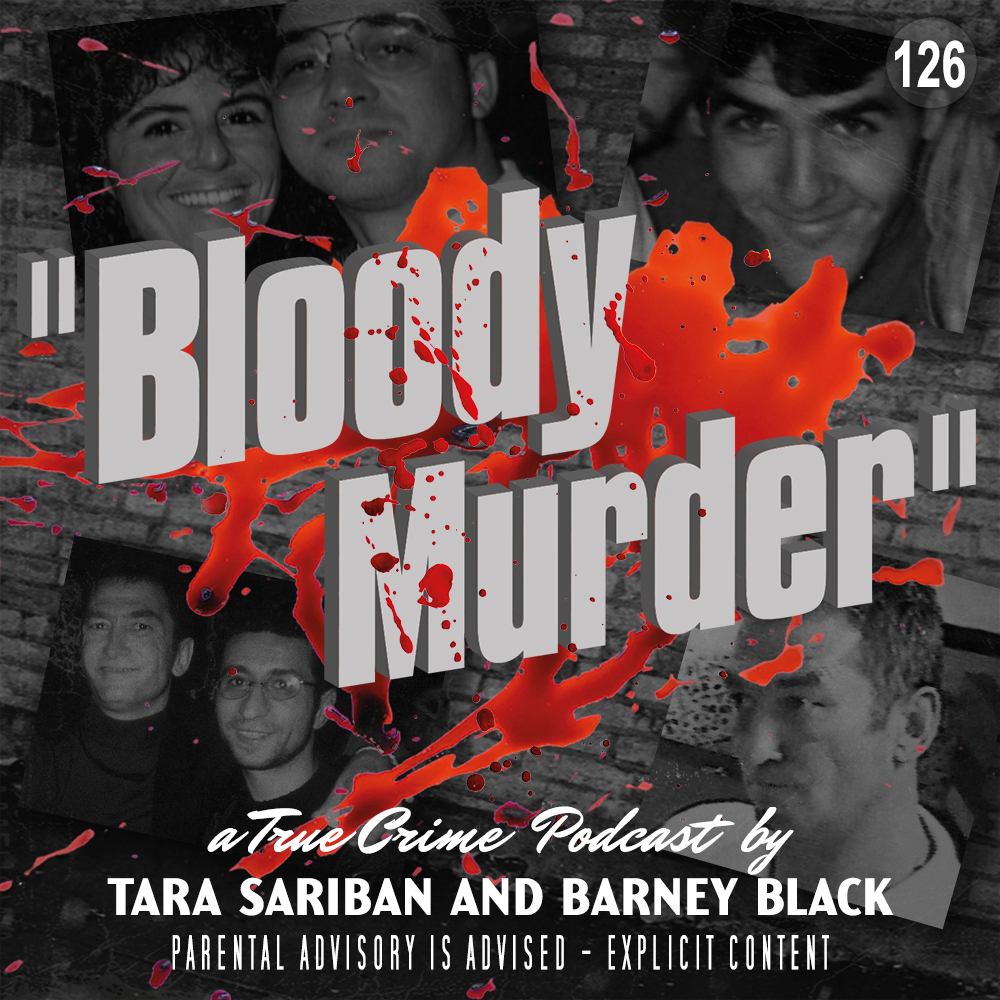 Hero Husband Mark Winger and Nasty Nikolai Radev...
In August 1995, Mark Winger shot a man named Roger Harrington twice in the head. Mark said he'd heard a noise and come upstairs to find Roger beating his beloved wife Donnah Winger to death with a hammer. After Roger's death, investigators soon determined that Mark had acted in self-defence. Sounds like a pretty straight forward case, doesn't it?
Bulgarian born Nikolai "The Russian" Radev was a nasty piece of work whose hobbies included extortion, blackmail and armed robbery. He had a well deserved reputation for viciousness and brutality in the Melbourne Underbelly. Fortunately for the rest of the world this awful awful rapist, murderer and career criminal would die the way he lived.
See our website! bloodymurderpodcast.com for all our social media links, contact details, a gallery, fabulous merchandise (check out our new Bloody Murder SHOES! and now STICKERS and BACKPACKS and DUFFEL BAGS!!) and much much more.
Become a Bloody Murder Patron for loads of extra episodes (including our early stuff), early release of some episodes, free merchandise and other sweet, sweet benefits. And now monthly give-aways! See below for details.
Wanna buy us a drink? Here's a donate link.
True Crime Nerd Time, a segment on Bloody Murder, needs your help because it stars you! We want you, our listeners, to submit your recommendations for anything true cime related! It could be books, TV shows, movies, documentaries, exhibitions, graphic novels, art, music etc. So send us your brief story (we'll read it out) or record your story (it can just be a recording on your phone, and we'll play it!). We will also publish it on our website. Keep it to about 2 mins please or 200 words. Email here! bloodymurderpodcast@gmail.com. Oh and if you give us your postal address we'll send you some stickers as a reward!
Aussie As: Train streaker cheered through packed train slip'n'slide.
Bloody Murder thanks Sudio Headphones. Sudio want to revolutionize the way people see headphones, as not just a tech device but also an accessory. Currently, the headphones market can offer you one of two things: style or tech. The fashionable ones tend to lack the proper sound quality, while the high-tech variations are bulky and not design-oriented. Sudio aim bridge that gap. While emphasizing their modern, Scandinavian design, Sudio also provide a product that matches the quality of even the highest-rated headphones on the market for a fraction of the cost. And the Tolvs are the bees knees. With their wireless design, minimalistic charging case, and microphones on both sides, Tolv is the perfect way to listen to podcasts or music. Their sophisticated earbuds hold 7 hours of battery life while the portable case offers 4 additional charges for an astonishing 6 days of standby life. Tolv have also introduced a new graphene driver for intense and clear sound quality. And they feature the latest Bluetooth 5.0 technology compatible with IOS and Android, and up to 15 meters of range.
Bloody Murder In association with our mates at Sudio are offering great deals on Tolvs and their complete range. Just go to sudio.com and use the code bloody15 at checkout for a whopping 15% off and FREE shipping! 
We are incredibly grateful for the support we receive from our patrons. To try to show them how much we love them we're going to be holding monthly give-aways.
This month we'll be giving away a pair of these fucking majestic Sudio Tolv headphones to one of our lucky patrons.  Patron's at levels $5 and above will be eligible to win and will be automatically entered into the draw.
We will be randomly selecting the winner on October 1st, 2019 and you will be notified by email.  Anyone who signs up to become a patron before that date will also be entered in to the draw.
Mark Winger Sources: Donna Brown Pland to Wed Mark Winger, NY Times, 17 July, 1988. A Witness Comes Forward, CBS News, Mary-Jayne McKay, Jan 15, 2003. Was Mark Winger A Hero Or A Killer? CBS News, David Kohn, Jan 15, 2003. 48 Hours, "An Invitation To A Murder," Sept 5, 2009. Forensic Files "A Welcome Intrusion," 27 August, 2003. Prosecutors say man Concocted Story About Stalker Killing Wife, Daily Herald, May 21, 2002. Man charged in two 1995 deaths, Chicago Tribune, Linda Rockey, Aug 24, 2001. Wife finds new life after husband's murder conviction, The Southeast Outlook, Patti Smith, Jun 14, 2012. Winger Gets Another 35 Years In Murder For Hire Case, The State Journal Register, Chris Dettro, Jul 24, 2007. People Vs Winger, APPELLATE COURT OF ILLINOIS FOURTH DISTRICT, Nov 8, 2016.
Nikolai Radev Sources: DailyTelegraph, Locked up with pervs 'for safety', March 14, 2008. Sydney Morning Herald, Tortured man who defrauded ATO sentenced, March 14, 2008. Herald Sun, Conman stressed by gangland torture session, by Kate Uebergang, March 12, 2008. The Age, Wise guys, tough guys, dead guys, December 14, 2003. Sydney Morning Herald, Real criminal wives bust the gangster's moll myth, by Andy Park, February 27, 2012. Tough Nuts, Nikolai Radev, The Invader. The Age, Bulgarian Nick dies in flurry of shots, April 17, 2003. Herald Sun, Career criminal Nikolai Radev gunned down in a Coburg street, by Paul Anderson, April 17, 2003. The Age, New lead in Bulgarian Nik's killing, December 13, 2003. The Age, Six named in underworld investigations, December 23, 2003. The Age, Why gangland's bloody code is hard to crack, April 20, 2003. Wikipedia.org, Nik_Radev.
Aussie As Sources: Train streaker cheered through packed train slip'n'slide , Phoebe Loomes, News.com.au, July 11, 2019. Melbourne train streaker slips and slides across Metro train, Nick D'Urbano, Herald Sun, July 11, 2019.