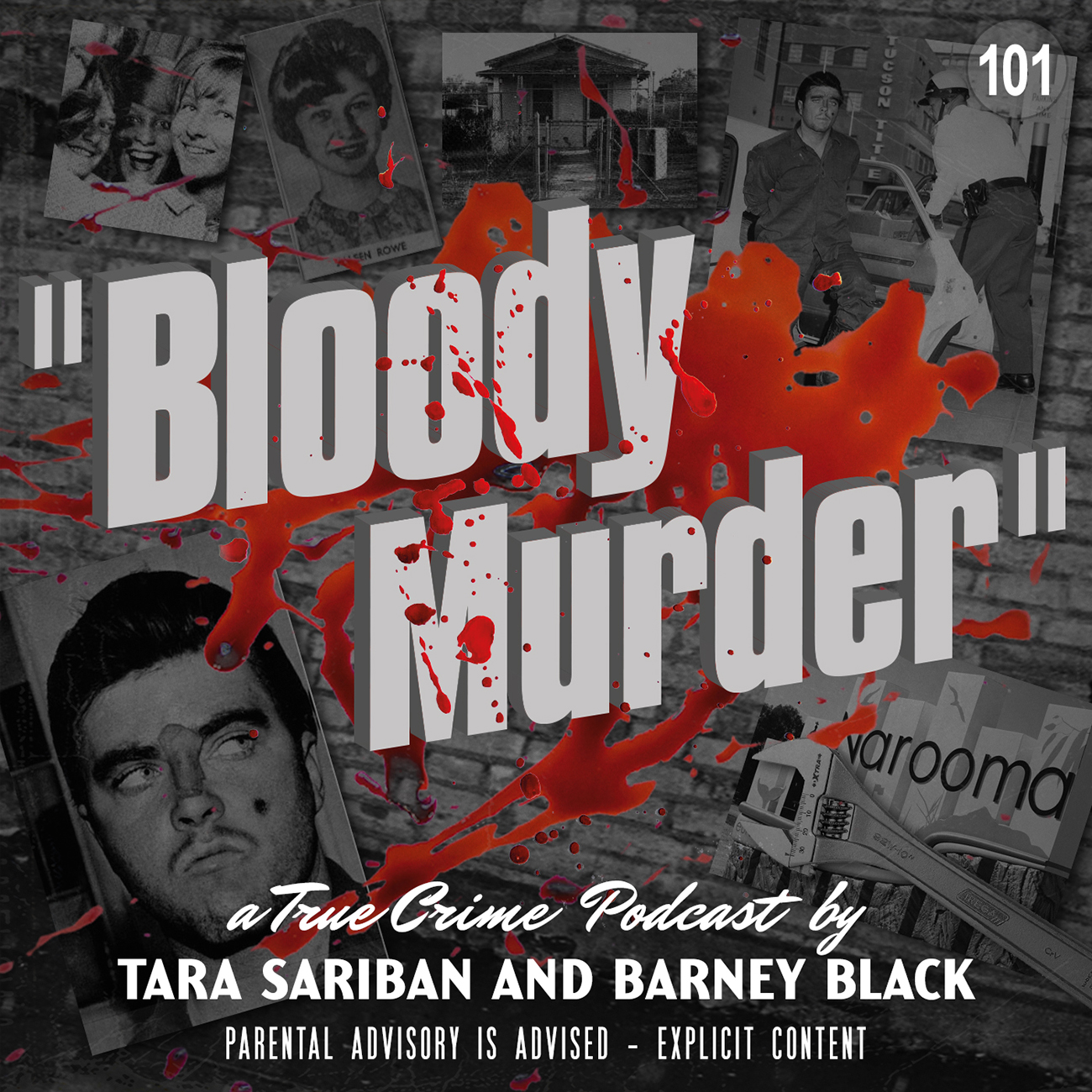 The Pied Piper of Tucson and The Ballad of Justin Cox...
Serial killer Charles Howard Schmid Jr was a bizarre young man who dyed his hair black and tanned his face with make up. He drew a mole on his cheek to look meaner and stuffed his boots full of tins cans and rags in an attempt to disguise his tiny stature. He was also an unlikely cult hero to the disaffected youth of Tucson in the early 1960's.
Justin Cox had always had a problem with managing his anger. A devastating life change, mixed with alcohol and the misguided belief a padelophile was living next door, drove him to murder a possibly innocent man named Samuel "Gadget" Connolly.
See our website! bloodymurderpodcast.com for all our socal media links, contact details, a gallery, fabulous merchandise (check out our new Bloody Murder Shoe, Stickers and now NEW LEGGINGS!) and much much more.
Become a Bloody Murder Patron for over 25 extra episodes, early release of some episodes, free merchandise and other sweet sweet benefits.
Wanna buy us a drink? Here's a donate link.
Thanks to Danielle Madej for supplying this weeks True Crime Nerd Time. It's a review of the film "Manson Family Vacation".
True Crime Nerd Time, a segment on Bloody Murder, needs your help because it stars you! We want you, our listeners, to submit your recommendations for anything true cime related! It could be books, TV shows, movies, documentaries, exhibitions, graphic novels, art, music etc. So send us your brief story (we'll read it out) or record your story (it can just be a recording on your phone, and we'll play it!). We will also publish it on our website. Keep it to about 2 mins please or 200 words. Email here! bloodymurderpodcast@gmail.com. Oh and if you give us your postal address we'll send you some stickers as a reward!
Check out the fantastic new crime book by our beloved Hildur Sif Thorarenson "His Sweet". 
When Sheriff Yolanda Demetriou receives boxes of notebooks, she has no idea of the horrors that lie ahead. Will she be able to piece together the information and locate the house where childhood dreams become nightmares? Or will she be too late to save an abducted girl? In this dark psychological thriller, Yolanda and her team embark on a hunt for a monster, following maddeningly sparse clues in a race to solve a heartless crime. Get it here! 
Support for Bloody Murder – A True Crime Podcast comes from Audible, who proudly present Evil Has A Name: The Untold Story of the Golden State Killer Investigation.
Nameless. Faceless. For more than 40 years the depraved monster who preyed on Californians from 1975 to 1986 was known by many aliases: The East Area Rapist. The Original Night Stalker. The Visalia Ransacker. Delivering all-new details about the investigation and a stunning final act to the events of Michelle McNamara's haunting bestseller, I'll Be Gone in the Dark, forensic criminologist Paul Holes and retired FBI profiler Jim Clemente reveal the unbelievable true story behind the capture of the suspected Golden State Killer.
Evil Has A Name: Only on Audible.
Listen now at Audible.com/EVILBLOODYMURDER or text EVILBLOODYMURDER to 500 500