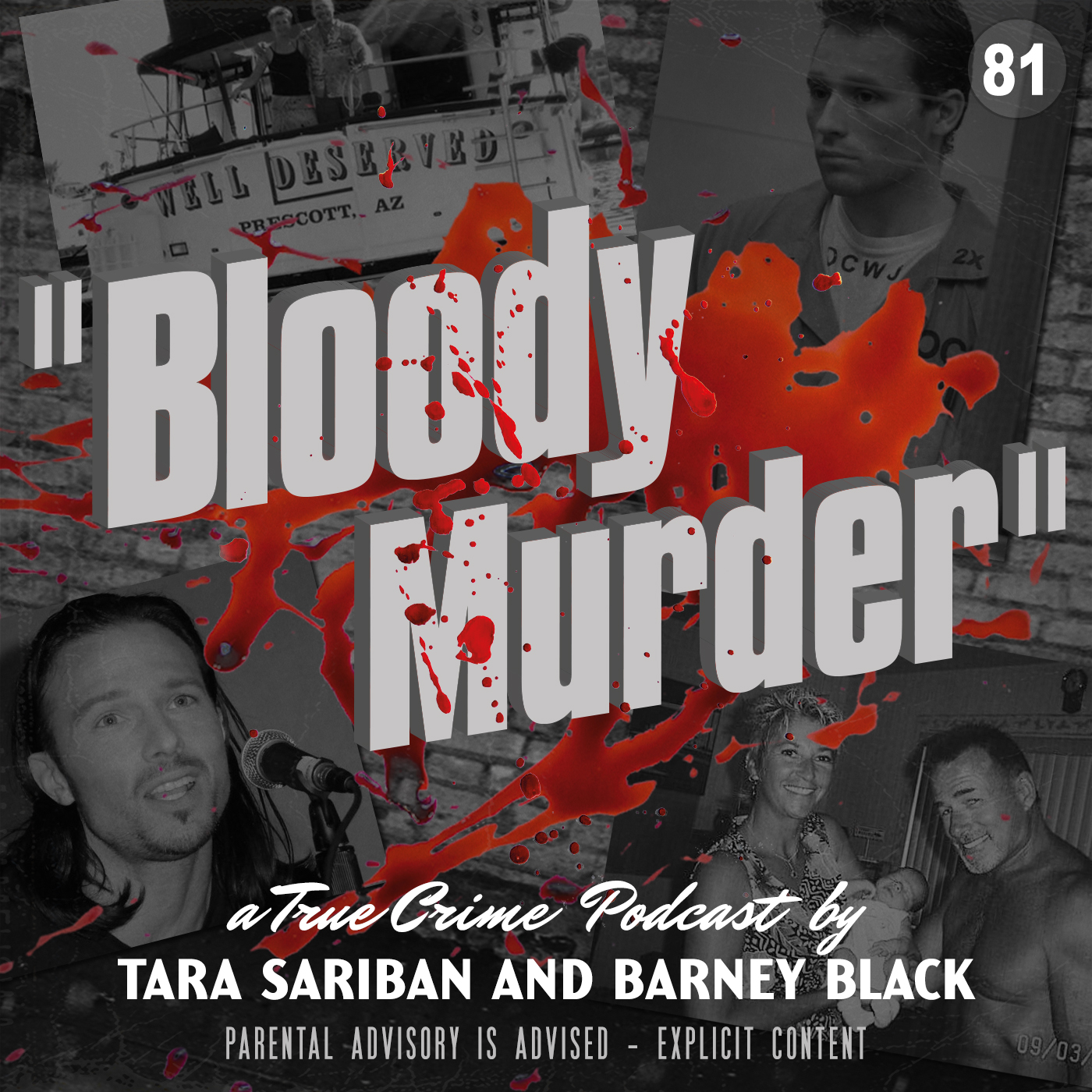 The Watery Graves of Tom and Jackie Hawks and Two Time Murderer Anthony Sullivan...
Loving couple Tom and Jackie Hawks had retired early to live an adventurous life on the sea in their boat "the Well Deserved." After the birth of their first grandchild they decided to move to Arizona. Failed child actor Skylar Deleon and his wife answered an ad to buy the boat, after hatching a plan to murder the Hawks and steal all their hard earned possessions. 
Anthony Ramon Sullivan was a knucklehead drug dealer who blamed his first brutal murder on a head injury he'd sustained. 13 years later, he killed again. This time he said he did it because he believed one of his customers stole his wallet.
See our website! bloodymurderpodcast.com for all our socal media links, contact details, a gallery, fabulous merchandise and much much more.
Become a Bloody Murder Patron for over a dozen extra episodes, early release of some episodes, free merchandise and other sweet sweet benefits.
Wanna buy us a drink? Here's a donate link.
Thanks to Alex Webb for supplying this weeks True Crime Nerd Time. It's a review of TV documentry series "Autopsy".
True Crime Nerd Time is a new segment on Bloody Murder and it needs your help because it stars you! We want you, our listeners, to submit your recommendations for anything true cime related! It could be books, TV shows, movies, documentaries, exhibitions, graphic novels, art, music etc. So send us your brief story (we'll read it out) or record your story (it can just be a recording on your phone, and we'll play it!). We will also publish it on our website. Keep it to about 2 mins please or 200 words. Email here! bloodymurderpodcast@gmail.com. Oh and if you give us your postal address we'll send you some stickers as a reward!
Don't forget to checkout Cambo on True Crime Island!
Bloody Murder Scents are here!
The perfume geniuses at Sue cray blay have created special Bloody Murder scents to go along with getting murdery. Andrea Fender sent us a whole box of them and I am in love with them all! They are so delicious! The Bloody Murder range features 4 different scents inspired by the podcast.
Lady Swears: is my personal favourite! It'll be sure to scare all the "old fashioned people" away. Lady Swears is a mixture of bourbon and sweeter notes - so you can swear like a lady while plotting your sweet revenge. It's the perfect scent to express yourself during a work meeting, in the car when someone cuts you off, or when someone tells you to "smile"..
Captain Moonlite: smells like your favorite glass of really good bourbon. You'll have the scent of the handsome bushranger by your side as you try to throw the coppers off of your trail.
Vodka And Swearing: is a fantastic scent with Juniper Sage and Lemongrass Mojito in the mix. Pull up a chair, fluff up your dirty pillows, put on some Vodka and Swearing and partake in your favorite indulgence.
Strawberry Milkshake: This blood red perfume has a deceptively sweet scent. Whether you're lounging by the pool listening to your favorite podcast or plotting to murder your millionaire spouse, Strawberry Milkshake will be sure to fool all around you into thinking there is no way you could be the suspect.
This range is available in perfume, whipped soap and beard oil. And features our Bloody murder logo.
You can buy them from www.sucreabeille.com