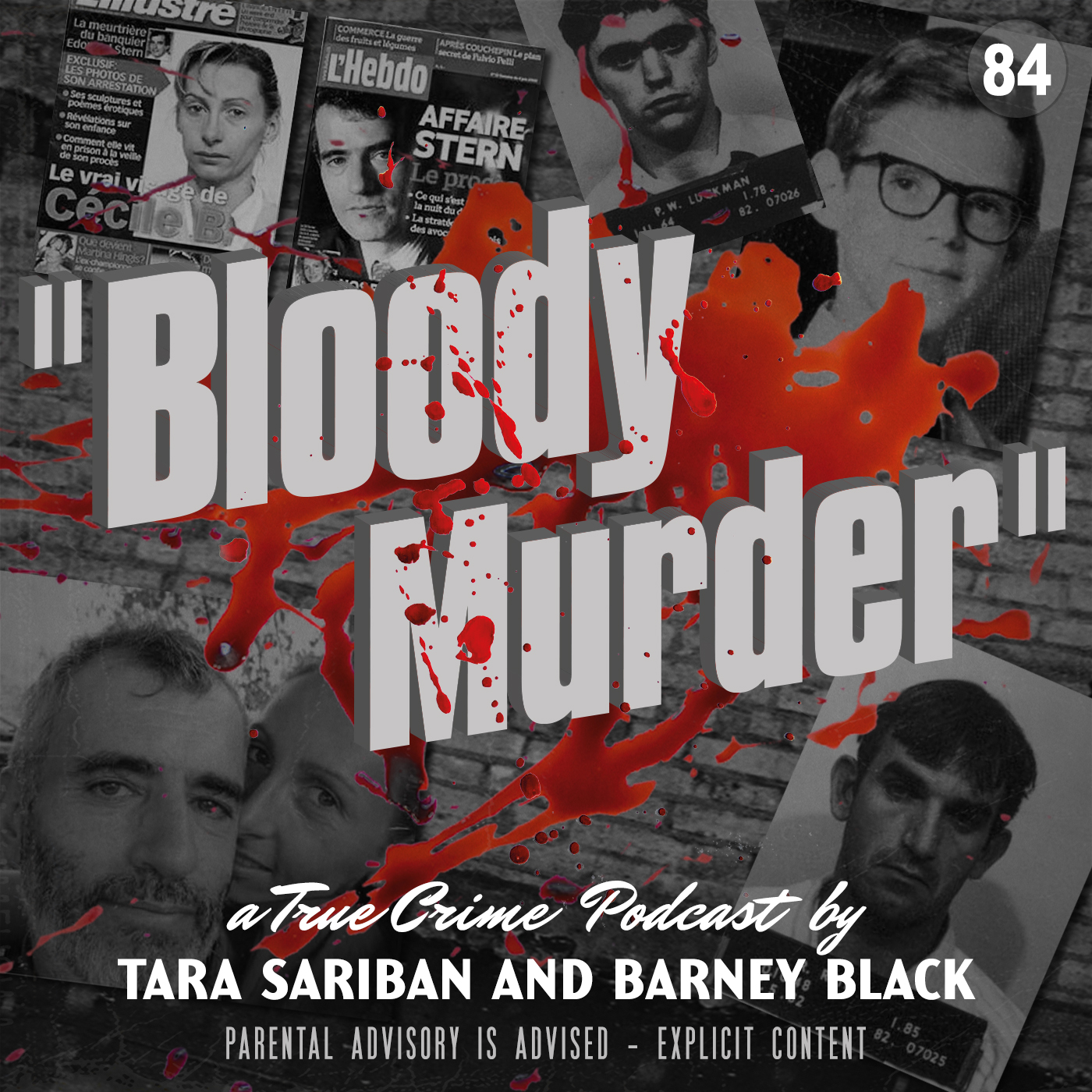 The Latex Catsuit Murder and The kidnapping of Peter Aston and Terry Ryan...
Édouard Stern was a millionaire French banker who had received many death threats due to his business dealings and links to the Russian mafia. On March 1st 2005, he was found shot dead in his apartment in Geneva, Switzerland, wearing a head-to-toe latex catsuit. Out of all the people who wanted him dead, who actually pulled the trigger? 
In 1982 Brisbane teenagers Peter Aston and Terry Ryan decided to hitchhike to Melbourne, unfortunately for them they would be picked up by Robin Reid and Paul Luckman. What ensued was one of the most hideous and frightening crimes ever to occur in Australia. Be warned this story is not for the faint of heart. This is a patron request for Alex Jimmy Middleton.
See our website! bloodymurderpodcast.com for all our socal media links, contact details, a gallery, fabulous merchandise and much much more.
Become a Bloody Murder Patron for over a dozen extra episodes, early release of some episodes, free merchandise and other sweet sweet benefits.
Wanna buy us a drink? Here's a donate link.
Thanks to Jade Bennett for supplying this weeks True Crime Nerd Time. It's a review of the tv series "Dark Minds"
True Crime Nerd Time is a new segment on Bloody Murder and it needs your help because it stars you! We want you, our listeners, to submit your recommendations for anything true cime related! It could be books, TV shows, movies, documentaries, exhibitions, graphic novels, art, music etc. So send us your brief story (we'll read it out) or record your story (it can just be a recording on your phone, and we'll play it!). We will also publish it on our website. Keep it to about 2 mins please or 200 words. Email here! bloodymurderpodcast@gmail.com. Oh and if you give us your postal address we'll send you some stickers as a reward!
Don't forget to checkout the podcast Mens Rea. It is a fortnightly true crime podcast that discusses crime in Ireland and the UK. Every two weeks, they delve into the most notorious crimes and examine the people involved, the investigation of the police and the court cases that followed.
Bloody Murder Scents are here!
The perfume geniuses at Sue cray blay have created special Bloody Murder scents to go along with getting murdery. Andrea Fender sent us a whole box of them and I am in love with them all! They are so delicious! The Bloody Murder range features 4 different scents inspired by the podcast.
Lady Swears: is my personal favourite! It'll be sure to scare all the "old fashioned people" away. Lady Swears is a mixture of bourbon and sweeter notes - so you can swear like a lady while plotting your sweet revenge. It's the perfect scent to express yourself during a work meeting, in the car when someone cuts you off, or when someone tells you to "smile"..
Captain Moonlite: smells like your favorite glass of really good bourbon. You'll have the scent of the handsome bushranger by your side as you try to throw the coppers off of your trail.
Vodka And Swearing: is a fantastic scent with Juniper Sage and Lemongrass Mojito in the mix. Pull up a chair, fluff up your dirty pillows, put on some Vodka and Swearing and partake in your favorite indulgence.
Strawberry Milkshake: This blood red perfume has a deceptively sweet scent. Whether you're lounging by the pool listening to your favorite podcast or plotting to murder your millionaire spouse, Strawberry Milkshake will be sure to fool all around you into thinking there is no way you could be the suspect.
This range is available in perfume, whipped soap and beard oil. And features our Bloody murder logo.
You can buy them from www.sucreabeille.com