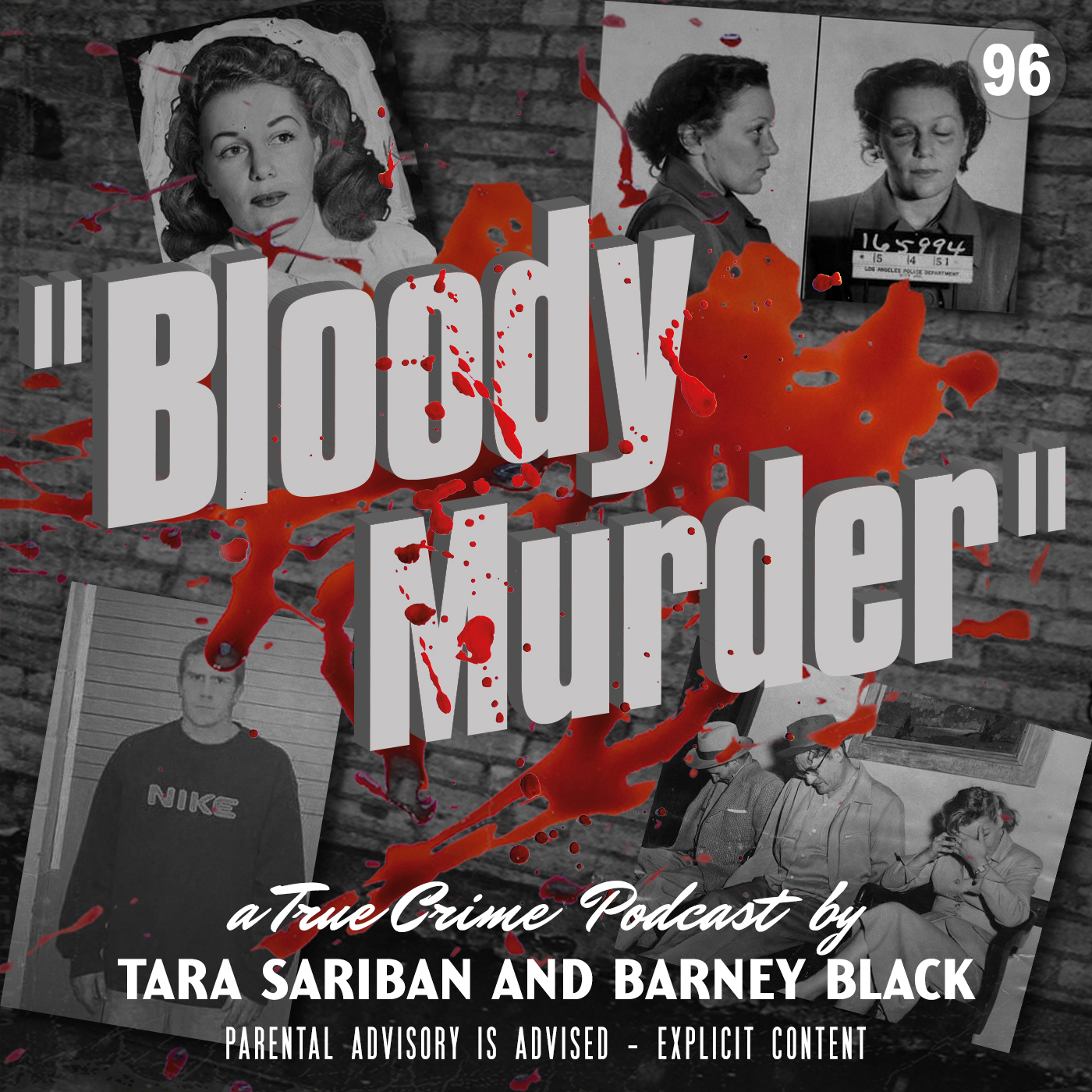 Bloody Babs and You Me Car Park Now!...
Nicknamed "Bloody Babs" by the press, vamp from the wrong side of the tracks, Barbra Graham had multiple convictions for disorderly conduct, vagrancy, suspicion of prostitution and perjury by her early twenties. In 1953, she stepped it up a notch when she and her no-good boyfriend murdered 64-year-old widow Mabel Monohan in the course of a robbery.
One drunken night in 2011, Richard Devries found himself on the wrong end of a punch over a car parking space. What he did next was brutal and disproportionate and led to two murders and had most people scratching their heads and asking why wasn't this man already in prison?
See our website! bloodymurderpodcast.com for all our socal media links, contact details, a gallery, fabulous merchandise (check out our new Bloody Murder SHOES! and now STICKERS!) and much much more.
Become a Bloody Murder Patron for over a twenty extra episodes, early release of some episodes, free merchandise and other sweet sweet benefits.
Wanna buy us a drink? Here's a donate link.
Thanks to Caitlin Thompson for supplying this weeks True Crime Nerd Time. It's a review of the book "Roger Rogerson" by Duncan McNab
True Crime Nerd Time, a segment on Bloody Murder, needs your help because it stars you! We want you, our listeners, to submit your recommendations for anything true cime related! It could be books, TV shows, movies, documentaries, exhibitions, graphic novels, art, music etc. So send us your brief story (we'll read it out) or record your story (it can just be a recording on your phone, and we'll play it!). We will also publish it on our website. Keep it to about 2 mins please or 200 words. Email here! bloodymurderpodcast@gmail.com. Oh and if you give us your postal address we'll send you some stickers as a reward!
Don't forget to checkout Ghost Story Guys Podcast where Authors Brennan Storr & Ian Gibbs explore the dark corners of the world. They talk about spooks, specters, and everything else watching us from the shadows beyond the campfire. They're funny buggers who tell a good story with a dose of critical thinking.
Bloody Murder Scents are here!
The perfume geniuses at Sucreabeille have created special Bloody Murder scents to go along with getting murdery. Andrea Fender sent us a whole box of them and I am in love with them all! They are so delicious! The Bloody Murder range features 4 different scents inspired by the podcast.
Lady Swears: is my personal favourite! It'll be sure to scare all the "old fashioned people" away. Lady Swears is a mixture of bourbon and sweeter notes - so you can swear like a lady while plotting your sweet revenge. It's the perfect scent to express yourself during a work meeting, in the car when someone cuts you off, or when someone tells you to "smile"..
Captain Moonlite: smells like your favorite glass of really good bourbon. You'll have the scent of the handsome bushranger by your side as you try to throw the coppers off of your trail.
Vodka And Swearing: is a fantastic scent with Juniper Sage and Lemongrass Mojito in the mix. Pull up a chair, fluff up your dirty pillows, put on some Vodka and Swearing and partake in your favorite indulgence.
Strawberry Milkshake: This blood red perfume has a deceptively sweet scent. Whether you're lounging by the pool listening to your favorite podcast or plotting to murder your millionaire spouse, Strawberry Milkshake will be sure to fool all around you into thinking there is no way you could be the suspect.
This range is available in perfume, whipped soap and beard oil. And features our Bloody murder logo.
You can buy them from www.sucreabeille.com